Have you noticed that a lot of people grumble and complain, always waiting for someone else to do for them what they should be doing for themselves? Why? Because people are lazy and sometimes very irresponsible EVEN when it comes to them and enjoy justifying and blaming others with excuses why "this or that" happens to THEM!
More important is, are YOU one them? I use to be… (there is so much FREEDOM in being a testimony of what once was! Praise God for deliverance!)
Sure, in life we get away with not being responsible in various personal areas (like not taking care of our health, finances, late all the time, etc., etc. – those are "self afflictions) however, when it comes to God AND His instructions (the Bible), fortunately for us, justifications, excuses, irresponsibility, lying, laziness and not following instructions, is unacceptable – especially when He knows we know better.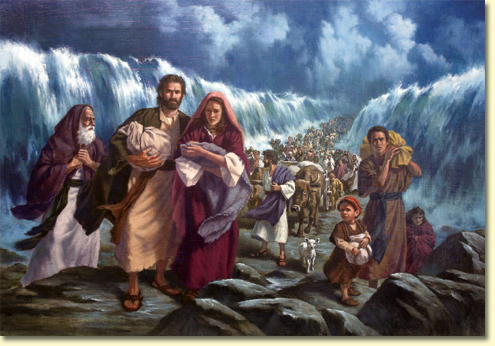 There are various times in the bible, where the Israelites were delivered from Pharoah and his army via the parting of the Red Sea (Exodus 15:22-26.) Right there should have been enough proof to them WHO God is and His love for them. But no, as soon as the next challenge came to them, they grumbled again! Three days into the wilderness they were complaining that they couldn't drink the water, so Moses cried out to God, God answered and the water was cleaned. Later on in the "journey" there was NO water to drink. They grumbled again and this time screaming at Moses and blaming him for bringing them to a place where there was no water AND asking "Is God not among us?"
[Side note: Really???? I'm literally shaking my head!]
Yet AGAIN, God provided a way of escape. (Exodus 17)
Mind you, 38 years later, another challenge…
Now there was no water for the community, and the people gathered in opposition to Moses and Aaron. They quarreled with Moses and said, "If only we had died when our brothers fell dead before the Lord! Why did you bring the Lord's community into this wilderness, that we and our livestock should die here? Why did you bring us up out of Egypt to this terrible place? It has no grain or figs, grapevines or pomegranates. And there is no water to drink!" (Numbers 20:2-5)
Okay, that's it, I'm done! Seriously, how many people do you know in this world, would put up with such grumbling? Thank God for HIS grace and mercy!
So, Moses and Aaron fell on their faces before the Lord and God told Moses to speak to the rock (Numbers 20: 6-8). Now watch this, instead of speaking to the rock, Moses took his rod and struck the rock, not once but twice, in anger. Unfortunately for Moses, he didn't follow God's instructions. Even though water still came out of the rock, Moses was disobedient in the instructions God gave him! God said to him, "Because you did not trust in Me enough to honor Me as Holy in the sight of the Israelites, you will not bring this community into the land I give them." (Numbers 20:12).
The consequence for Moses: Moses never made it to the Promised Land.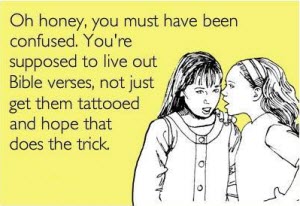 I believe that we should understand that just because Jesus bore our sins on the cross, it doesn't mean that we don't have to suffer the consequences of our choices. It doesn't mean that we don't have to follow instructions. It doesn't mean that we are consistently "excused" out of a situation! God was displeased because after everything God consistently showed Moses, Moses still did not trust Him enough to honor HIM as Holy!
God desires that we become mature in our journey. Otherwise, what's the point of bible thumping, every time the church doors swing open you're in there and nothing that is being taught have you learned or living? We should desire to learn to move from babes in Christ to Mature Christian BELIEVERS, by being doers of the Word, following instructions — instead of just scripture quoters, amen sayers, church going, no proof of the Word, clique group pointing the finger non-believing, I'm a Jesus lover saint thing!  (okay, so yes, I LOVE to keep it real 😉
As I've indicated before, to let go and let God, is a process. And how you go through the process will determine the outcome. There are instructions to follow and believe me I know oh too well, the consequences of not following instructions. But, when you know better, you do better.
God Disciplines His Children
"My son, do not make light of the Lord's discipline, and do not lose heart when He rebukes you, because the Lord disciplines the one He loves, and He chastens everyone He accepts as His son." – Hebrews 12:4-6
Whatever the reasons or excuses, I love the fact that God gives us free will to choose. He will NEVER make us choose one way or the other.  I can tell you however, that once you choose to "allow" yourself to take the journey God has created specifically for you, as well as follow the instructions, HE will hold you accountable and the experience will be nothing that you've ever experienced before!
Wouldn't you agree that there is absolutely no reason under the sun for God to be displeased because, we choose not to follow instructions?  Instead shouldn't we choose to glorify HIM in obedience in EVERY area of our lives?
I'd love to read your comments below!
To God be all the glory and all of HIS promises are, YES and AMEN!

Let Go Let God – Follow His Instructions
Share your comments!