I'm excited and hope you are too!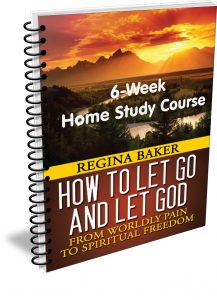 The Let Go and Let God, 6-Week Home Study Course is almost ready!
In the meantime, you can download a FREE Chapter (8 pages).  The finished course will be completed by May 1, 2017.
Download the free chapter and we'll add your name to the drawing to receive the entire course!
PLUS! If you review the free chapter and send me a thorough testimony, you'll receive the ENTIRE COURSE at NO CHARGE! Send your testimony to regina @ howtoletgoandletgod.com with the subject LGLG Course Testimony! Thanks!
If you have any challenges, feel free to email me: regina @ howtoletgoandletgod.com
Enjoy! ~ Regina
Enter your first name and email address below: