Over to the left, enter your first name and email address for instant access to a  complimentary excerpt of "How To Let Go and Let God."
From: Regina Baker, Author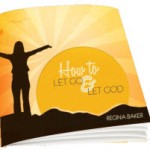 Everyday countless people get online and search for the term "how to let go and let God."  Approximately seven years ago, I wrote an article to express my feelings on the subject and the steps I took to learn how to let go of things I couldn't "fix" by giving it over to God.
Strikingly, this article is more popular than anything I've written in all my 14 years online!  Click here to read that article and the comments people wrote detailing their challenges.
It wasn't until recently, I realized it was imperative that I seek the Lord to provide additional information on the subject, whereby removing myself and allowing Him to guide me in writing a short (21 page) book on the subject.
I've learned that when we let go (give it over to God), it is only then that will we receive the spiritual guidance we need in order to get past the pain, the unknowing and day in and day out challenges of this world.
Let's face it, letting go and letting God is not an easy thing to do however, it's a simple choice.  You let go off the things you can't fix, you let go of the battles that really aren't yours, you let go of justifying the wrong reason to get selfish gratification.
My book, "How To Let Go and Let God", is a message of hope.  It describes the pain I've dealt with and how I got past it.  It's a testimony of God's grace and mercy, that when we give it all over to Him, He's faithful to give us the true understanding of what faith really means and how to adapt it in every area of our lives.
My friend Regina Baker has written an awe inspiring book on "How to Let Go and Let God." Her vulnerability to share personal pain will melt the hearts of every reader.  Her genuine understanding that fixes to life's challenges don't come without process, will open up the eyes of many.  Lastly, Regina demonstrates that by letting go and letting God, we are destined to see His awesome power working on our behalf.  "How to Let Go and Let God" is right on time for the days we live in.  Individuals, couples and families would do good to read this book.

Pastor Ced Reynolds
CentrePoint Christian Fellowship
Founder of the Winning Souls Campaign
http://winningsouls.ws
Table of Contents:
My Personal Journey
I Let Go and Let God
Pray, Study and Worship
Faith
Approval Addiction
Verbal Abuse
Adultery
Problems in Your Relationships (excerpt)
Learning How to Let Go
Give it Over to God
and more…
As you prepare to read the Let Go Let God book excerpt, I pray that you will be encouraged, fulfilled and that your questions are answered by Him and Him only.  It is not a sermon to let go and let God, it's simply my experience and understanding of how to truly let go and allow God to do what He's purposed for your life!  I don't say this to say that I'm speaking on His behalf, because I'm not.  I desire to be used by Him in any way HE deems fit.  God gets ALL the glory and for this I'm grateful to share this content with you.
In all your getting… GET understanding!

P.S. Want to read the entire book?  Click here