I am pleased to announce this beautiful piece of Let Go Let God Jewelry and GIVE AWAY donated by my friend, Janelle of GraceTags.com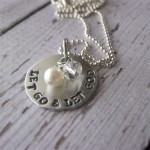 Thanks to Janelle, you can now ENTER TO WIN this beautiful piece by leaving a comment below.   You'll qualify to receive additional "entries" when you:
post to your twitter profile

post to facebook profile

connect with us on twitter here
connect with us on facebook here
connect with Janelle of Grace Tags on facebook here
NOT REQUIRED:  However, when you leave your comment, and you want additional entries to the contest, let me know how you've shared the contest.  Example: your comment on the jewelry piece, shared on twitter, facebook and/or connected with us on twitter and facebook.
I'll announce the winner on the blog, Wednesday, February 29, 2012
Thank you for your support and participation (and thanks to Janelle for the giveaway!)

P.S. If you have a question about this contest or the jewelry, submit it here.
Janelle's, "Grace Tags" Online Store is located here: www.etsy.com/shop/gracetags
Let Go Let God Jewelry Giveaway
Share your comments!