You too?  Girlfriend, you know that's a man's "M.O.", don't you?  And I just know you ain't putting up with that mess!
I'm a baby boomer so I'm no spring chicken… I've heard these kinds of stories since I understood what dating meant. Family, friends, co-workers, neighbors and even strangers will go to battle for you by telling you if a man cheats on you he's no good and to get rid of him stat quick!  I mean come on, how do you deal with marriage after infidelity?
But, how many of them have actually dealt with the issue themselves?  Seriously, are they putting on a mask every time they step out the front door, perpetrating a fraud because some of them have their own little secrets?  And who, just who will shut up all the naysayers and listen to you as you little by little, regurgitate pieces of your heart out?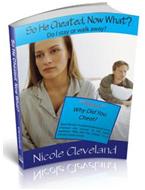 Not very many because there is much truth to the quote, "misery loves company."  However, there is only One (if you let Him) who will take all of your pain, disappointments, confusion and frustation, His name is Jesus Christ.  That's exactly what Nicole Cleveland, Author of "So He Cheated, Now What?" did.  Nicole's husband not only cheated, but had a child from the affair!
I don't believe we get to choose our battles… and yes God said the battle isn't ours, it's His — but still, you don't get to choose what it's going to be AND, it's how you go through the process, that determines the outcome.  When you choose God's will, He will give you a peace that surpasseth ALL worldly, naysayers included — understanding!
Nicole chose to "let go and let God"… and because she surrendered to the voice and will of God, she now shares her testimony and beautiful reunion with her husband in her book, "So He Cheated, Now What?"
If you or someone you know has dealt with or going through the struggle and pains of  infidelity, I encourage you to:
So He Cheated, Now What? is a one woman's testimonial on how she overcame an affair in her marriage. Everyday women are asking the questions,  "Do I Stay or Walk Away?" and  "Can the Trust Ever be Restored?"  Nicole Cleveland shares the steps to rebuilding trust after an affair in this book. After reading this book you will understand that marriage is a threesome and God is the ultimate restorer.
To find out more about Nicole, visit her website, BreatheAgainMinistry.org
Care to share how you've dealt with marriage after infidelity?  Would you like to schedule a 15 minute complimentary chat with Nicole?  Leave a comment and we'll respond as soon as possible.
God bless!
Regina
So, He Cheated, Now What?
Share your comments!