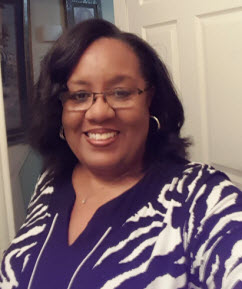 Regina Baker, known as the "Keeping It Real" certified biblical, internet & offline marketing business consultant, knows what it's like to really "let go and let God."
"Life is REALLY like a box of chocolates, you never know what you're gonna get."
When faced with the devastating news of her late husband's diagnosis, "terminal cancer," Regina sought out for the real understanding of how faith and letting go and let God would help her through the difficult times ahead.
Pray and Listen
"Cause me to hear Your loving-kindness in the morning, for You do I lean and in You do I trust.  Cause me to know the way wherein I should walk, for I lift up my inner self to you."  Psalm 141:8
Baker says, "it's only when you deeply seek God for spiritual understanding, that you'll ever be blessed with knowing that the battle really isn't yours, and that by surrendering everything over to God is as simple as making a sincere decision to do just that."
While the journey wasn't an easy one, it was the best time of her life.  She formed a relationship with Jesus Christ, studied the word on a daily basis and received a "peace that surspasseth ALL worldly understanding."
Baker says, "God holds us accountable to His revelation (understanding of His word).  As believers, it is our responsibility to seek Him for guidance, for understanding and then believe that He will do as He says."
Letting Go and Let God is not as complicated as we try to make it.  After a two year journey and going through the process, and becoming a Certified Biblical Consultant, Regina enjoys helping others to get past their pain to their power.
You can connect with Regina on Facebook as well as tune in every Tuesday for bible study on Transformation Talk with the host Enrique Pascal where she serves as Program Director and Co-Host.  Time, 8pm est and 7pm cst, dial in: 712-432-1212 pin: 419691
To contact Regina, send an email to: support @ howtoletgoandletgod.com
In all your getting… GET understanding!

Speaking:
Regina is available for speaking engagements, radio interviews and consulting.  For information concerning such, call (832)786-1907 or email: support@howtoletgoandletgod.com
About the book…